Model train Scale and TRACK Gauge BASICS
This page describes more than you might want to know about model railway scales and related topics like track gauge, standards that allow operation of model trains from various manufacturers, and many other questions posed to me across a lifetime of model railroading. Scroll down to see all the topics.

To see the wide variety of scales and track gauges that have been used for model railways, check out these links:
Much confusion surrounds model railway scales, the names given to those scales, and the various track gauges that can be modeled in each scale. Let's review all the necessary definitions and possibly some of that confusion can be cleared up here.

"Prototype" is a word used to mean the original, full size item that is to be modeled.

"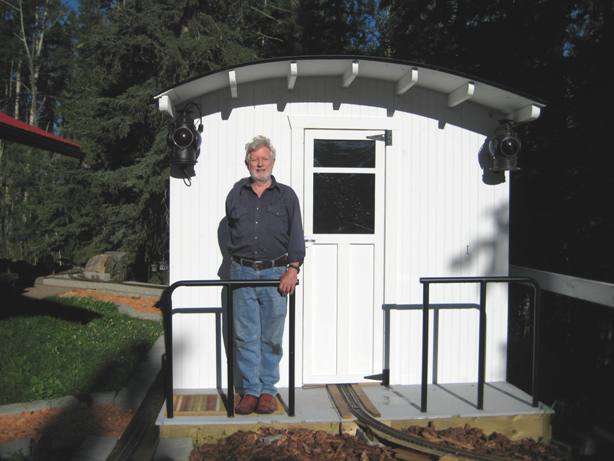 Scale" or "Scale Ratio" is the ratio in size between an original and a model of the original. A very popular scale ratio for model trains and model cars is 1:87, which means that the model's dimensions are 1/87th the size of the original. This translates to 3.5 millimeters equals 1 foot. The "Scale Name" given to this Scale Ratio is "HO Scale", each letter pronounced separately as "aitch-oh". See more about Scale Names in the Tables below.
This is my 1:1 scale (full-size) model of Denver, South Park and Pacific Railway waycar #60. It is a model of a prototype that ran back in the 1880's.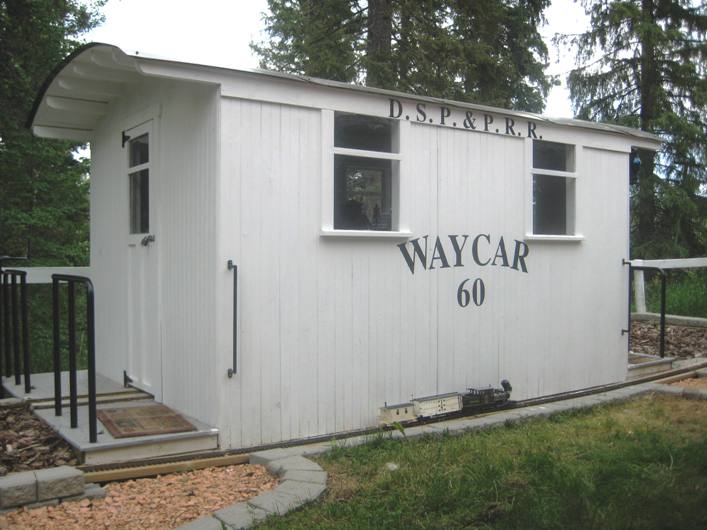 It's hard to image the size of the prototype compared to a model unless you put them side-by-side. Here's an example.



My full size caboose with a 1:20 or "F" scale train running along the bottom edge. The little caboose on the left end of the short train is 1/20th the size of the full size caboose. An HO scale train would be about 4.5 times smaller again.


"
Gauge" or "Track Gauge" is the distance between the rails of real or modeled railway tracks. On the illustration at the right, the Track Gauge "G" is the distance between the inside edges of the rails.

"Standard Gauge" for North America, Britain, and parts of Europe, Asia, Africa, and Australia is 4 feet 8-1/2 inches (1435 mm). This strange dimension may go back to Greek and Roman chariots, which were designed to fit a standard stone road or bridge. Many early steam locomotives in Britain were made to the same size. Note that some European standard gauge is 1440 mm instead of 1435 mm.

Standard Gauge was adopted by law in the USA in 1886. At that time a census of railways showed 25 different gauges in use across the country.

Many railways were built, and some still operate, with wider gauges. One of the widest gauges, 7 feet 1/4 inch (2.14 meters), was used in the early days in Britain. These are usually called Wide Gauge or Broad Gauge. Some logging railways, especially those with horses for dragging logs, used gauges of from 6 to 9 feet.

There are also Narrow Gauge railways, with the gauge less than 4 feet 8-1/2 inches, typically 18, 24, 30, 36, and 42 inch gauge. In USA, 36 inch gauge was common in the 1880s in mountainous and mining operations.

Standard Gauge, In HO Scale, would be 1/87th of 4'8.5", or 0.649 inches (16.5 millimeters). The gauge specified is usually the minimum allowed for safe operation and tolerances are given to indicate the maximum distance allowed.

"Scale / Gauge Combination" is a track gauge used with a particular model scale. The same gauge of model track can be used in several scales to represent different gauges in these various scales. For example, 1-3/4 inch (45 mm) gauge track is used to portray many gauges in many scales.
"Gauge Name" is the word or abbreviation used as a shorthand label to identify a model track gauge. For example, a track gauge of 1-3/4 inches (45mm) is traditionally called Gauge 1, but could be called Fn3 if it was used to represent 3 foot narrow gauge in F Scale. There is a phenomenal variety of names used for the same gauge, depending on what the track is being used for..

A railway rolling stock model is not fully described unless both Scale and Gauge are specified. A railroad structure like a station or a water tank is fully described by its scale only, as there is no track gauge associated with a building.

Unfortunately, some Scale Names are used to represent more than one Scale Ratio. For example, O Scale can mean any one of four scale ratios. This is really confusing, even to experts.
To make matters difficult, there are more than 60 different scales in use today for model railways. Not all scales are equally popular, and some are more popular in Europe or Britain than in North America. Some are exceedingly rare and never seen except in old magazine stories.
Even more confusion comes from mixing the words Scale and Gauge. For example HO is the name of both a scale (HO Scale) and a gauge (HO Gauge) of model train track. Some writers use the word Gauge when they mean Scale, and vice-versa.
A name like HOn3 is often called a Scale but is, in fact, a Gauge of track, namely 3 foot Narrow Gauge, modeled in HO Scale. Even the National Model Railroad Association (NMRA) fails to make the distinction in their Standard S-1 and related documents.
Manufacturers, advertising copywriters, and editors have a collective amnesia about perfectly good names that have been used in the past, and insist on inventing new names. This is usually done without regard to any established conventions or naming rules.
Scales that have small Scale Ratios are called Large Scales (eg. 1:20), because the models are quite large, and Small Scales have large Scale Ratios (eg, 1:160). The breakpoint between large and small is usually above 1:48 scale ratio (anything larger than O Scale)..
The most common commercially available scales for model trains in North America are named
Z (1:220 ratio), N (1:160), HO (1:87), S (1:64), O (1:48), and G (1:22.6+/-) scales. G Scale is only one of seven so-called "Large Scales" that have scale ratios running between 1:13.5 and 1:32.

The illustration below, showing the head-on view of a modern diesel, illustrates the relative sizes of these scales. Note that the illustration on the screen is about one-half actual size.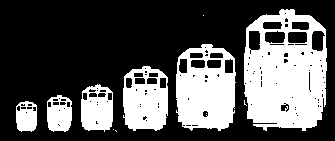 The HO locomotive shown above would be a little more than 1 inch wide and the G scale locomotive would be about 4-1/4 inches wide.


In the background, a 1:20 scale locomotive (22.5 inches long), in front of it is a 1:24 scale model of the same locomotive (18.75 inches long), and at the bottom right, an HO scale model of the same locomotive (5.0 inches long), all of them a DSP&P 2-6-6T Mason Bogie locomotive of the 1880's. These are 3-foot narrow gauge steamers, so they could be called Fn3, Hn3, and HOn3 gauge locomotives.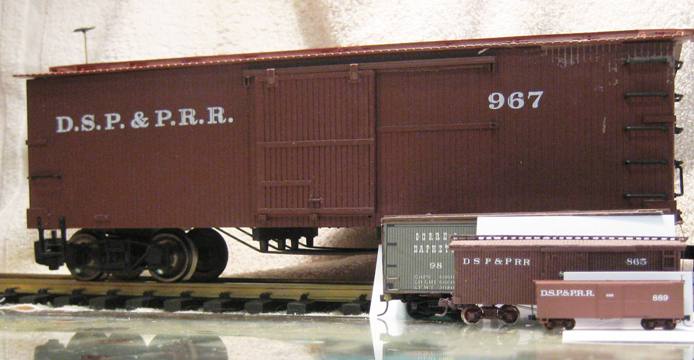 All four of these models are 28 foot 3-foot narrow gauge boxcars. At the rear is a 1:22.6 "G" Scale model. It can be used in 1:20 and 1:24 scales and no one would notice the fact that the car was not exactly 28 feet long. The Gorre and Daphetid car represents a 1:64 "S" Scale version. In front of that is a 1:87 HO Scale version and a 1:160 "N" scale car. If the G Scale car was painted for a Standard Gauge railroad, it would represent a 36 foot old-time boxcar in 1:32 "1" Scale. The G&D boxcar is actually a 36 foot HO standard gauge car, "standing-in" as an S Scale narrow gauge car for this photo.

MIXING SCALES and GAUGES
This can be used in model railroading for several reasons. A mix of standard and narrow gauges using a common scale is the usual situation. It mimics real life railroad scenes where two railways of different gauges meet and interchange shipments. It can lead to Dual Gauge Track, which can be complicated and interesting to viewers and operators of the model trains.

Using a much smaller scale for track, trains, and buildings can simulate an amusement park ride for children and adults. I used an N Scale train on my indoor G Scale railway for this purpose. A real life garden railway built at 1:20 scale could use a Z Scale model train to represent a garden railway in the back yard of a model home.

Finally, using the next smaller scale on trains running in the background can be used to enhance the sense of distance by tricking the eye with forced perspective. I did this by using an O Scale train on a "distant" mountain on my G scale layout. You can translate these concepts easily to smaller scale model railways in HO, S, and O Scales. Smaller scale buildings, vehicles, and trees in the background can be used in the same way to expand the horizon.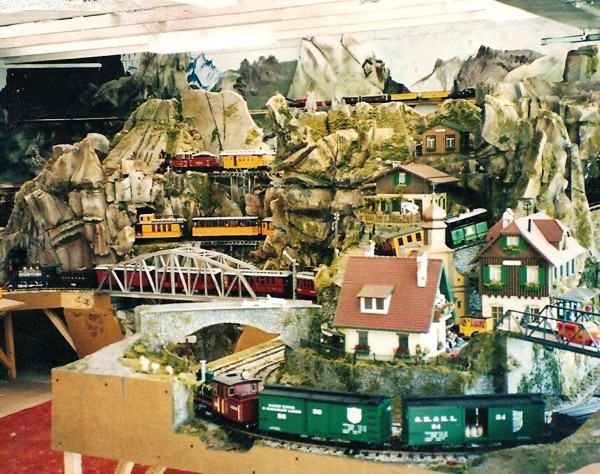 The yellow train in the upper background is O Scale (1:48) while the yellow train in the middle foreground is G Scale (1:22.5). The two trains are only 12 feet apart, but the sense of distance is much larger.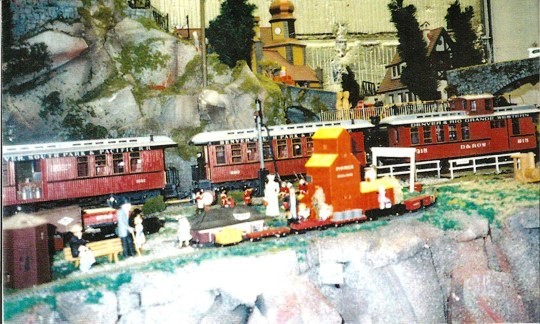 A 1:22.6 Scale passenger train pauses at Tiny Town to drop off children to ride on the 1/8 scale
"live-steam" train (N Scale) that circles the 1/8 scale grain elevator and station.
Mixing rolling stock from different Scales in the same train can look strange when the sizes are too different. This happens most often in the large scale environment where 1:32 and 1:29 Scale standard gauge trains can run on the same physical track as 1:20 or 1:22.5 Scale narrow gauge trains. When an old-time steam engine is physically bigger than a modern diesel, the sense of realism is broken.


SCALING DIMENSIONS, WEIGHT, and SPEED
Scale Length is shorter than prototype length by a factor equal to the Scale Ratio. The equation is:
Scale length (inches) = Prototype length (feet) times 12 inches/foot divided by Scale Ratio
For example: a 40 foot boxcar in O scale would be 40 feet times 12 inches/foot / 48 = 10 inches.
Scale track gauge (inches) = Prototype track gauge (inches) divided by Scale Ratio
For example: standard gauge track (56.5 inches) in O scale would be 56.5 inches / 48 = 1.77 inches.
Scale track gauge (millimeters) = Prototype track gauge (mm) divided by Scale Ratio
For example: standard gauge track (56.5 inches) in HO scale would be 56.5 inches times 25.4 mm/inch / 87 = 16.5 mm.
Scale Area is smaller by a factor equal to the Scale Ratio squared, and Scale Volume decreases by a factor of the Scale Ratio cubed.
Thus a mile of track at a scale of 1:87 is 5280 feet divided by 87, which equals 60.68 feet. A scale square mile of land would be about 61 by 61 feet, which is much larger than most model railways.

That's why we use Selective Compression to pack a meaningful scene into a small space on a model. For example, a typical paved 2-lane highway is 100 feet wide between fence lines. This is 13-3/4 inches wide in HO Scale. We can't afford to give up over a foot of space for a highway on a model, so we selectively compress it to less than 6 inches. The eye usually doesn't mind.
Scale Weight is proportional to volume, so the weight of a 100 ton locomotive, at 1:87 scale, would be: (100 tons x 2000 lb/ton x 16 oz/lb) divided by (87 x 87 x 87) = 4.86 ounces. This would be far too light to operate; the average model locomotive at this scale weighs 10 to 20 ounces. Unfortunately, we can't model the pull of gravity.
Scale Speed equals actual speed multiplied by the Scale Ratio. A model traveling 20 feet per minute is moving at an actual speed of 0.227 miles per hour, equivalent to almost 20 scale miles per hour in HO Scale (1:87). Most models travel too fast; the worst being run at over 300 scale miles per hour. The conversion equation is:
Scale Speed (mph) = 1/88 times Speed (feet/minute) times Scale Ratio
Many people use a Scale Mile (often called a Smile) which is shorter than a real scale mile, and others use Scale Tine, usually 5 to 10 times faster than real time, to account for selective compression of model railways and the high speeds of model trains. Here, Scale speed (sph) = Smiles divided by Scale time.



CONVERSION FACTORS
1 inch = 25.4 mm exactly

1 meter = 3.281 feet exactly

Ratio = 12 / (inches/foot)

inches/foot = 12 / Ratio

Ratio = 12 / (mm/foot) / 25.4

mm/foot = 12 * 25.4 / Ratio

Ratio = 1000 / (mm/meter)

mm/meter = 1000 / Ratio

Model track gauge (inches) = Prototype gauge (inches) / Ratio

Model track gauge (mm) = 25.4 * Prototype (inches) / Ratio

% Error To Prototype = ((Model track gauge * Ratio / Prototype gauge) - 1) * 100

(+) = model tracks are too wide,

(-) = model tracks too narrow.

MODEL TRAIN Standards - Scale and Gauge
The National Model Railroad Association (NMRA) has established wheel and track standards or recommended practices for some scale and gauge combinations used in North America. Similar organizations in Britain and Europe have also set standards (MOROP and NEMA), some of which conflict with NMRA standards. Some small, and not so small, special interest groups (SIGs) have also set their own standards to permit equipment interchange between modelers who follow these, often more rigorous, standards. You may find minor incompatibility in wheels and track from different countries or different manufacturers.

MODEL RAILWAY STANDARDS IN NORTH AMERICA
The purpose of standards, of course, is to assist in creating at least some minimum compatibility between models, of nominally the same scale, made by different manufacturers. Unfortunately, standardization has not been achieved in any of the larger scales, and has been fragmented in the smaller scales, by separating fine scale and high rail standards from normal and coarse scale standards.
There are at least 60 scales in use today; the most common 10 basic scales used to represent Standard Gauge railways in North American are listed below. The track gauge dimensions and many other detail standards for these scales have been published by NMRA, the first attempts dating from 1936.
| | | | | | | |
| --- | --- | --- | --- | --- | --- | --- |
| Scale Name | Model Track Gauge inches | mm | Scale Ratio 1:xxx | Relative size To Next Scale | Relative Size To Next Gauge | Gauge Name |
| 1. Z Scale | 0.257 | 6.53 | 220 | 0.727 | 0.728 | Z |
| 2. N Scale | 0.353 | 8.97 | 160 | 0.75 | 0.749 | N |
| 3. TT Scale | 0.471 | 12 | 120 | 0.726 | 0.726 | TT |
| 4. HO Scale | 0.649 | 16.5 | 87.1 | 0.735 | 0.742 | HO |
| 5. S Scale | 0.875 | 22.2 | 64 | 0.75 | 0.7 | S |
| 6. O Scale | 1.25 | 31.8 | 48 | 0.667 | 0.708 | O |
| 7. 3/8" Scale | 1.766 | 44.9 | 32 | 0.75 | 0.706 | Ga. 1 |
| 8. 1/2" Scale | 2.5 | 63.5 | 24 | 0.667 | 0.714 | Ga. 3 |
| 9. 3/4" Scale | 3.5 | 88.9 | 16 | 0.75 | 0.737 | Ga. 4 |
| 10. 1" Scale | 4.75 | 121 | 12 | ---- | ---- | 7.5 inch |
Note that most scales are approximately 3/4, or 0.75, times the next scale in the list. I call this happy coincidence "CRAIN'S 3/4 RULE".
The 3/4 RULE makes it easy to use track and wheel sets from a smaller scale as narrow gauge components in a larger scale, because 3 foot and meter gauge railway equipment is usually constructed to be about 3/4 the size of standard gauge equipment. For example, the average older standard gauge boxcar is 10 feet wide and 40 feet long. Many 3 foot gauge boxcars are 7 to 8 feet wide and 28 to 30 feet long.
In the USA, the NMRA has traditionally recognized three additional scales, namely OO Scale (1:76.2), O17 Scale (1:45.2), and G Scale (1:22.5). These scales are close to HO, O, and 1/2" respectively. Recently, NMRA proposed some additional scales as standards. The additions to the NMRA list are 1-1/2 inch Scale (1:8), M Scale (1:13.5), F Scale (1:20.3), and A Scale (1:29). They represent the latest trends in Large Scale modeling practice but sadly, they were never adopted as standards, which demonstrates a serious lack of respect for Large Scale members, and has driven most practitioners to other Associations (GMRA.org and others).

MODEL RAILWAY STANDARDS IN BRITAIN AND EUROPE
In Britain and Europe, additional standard scales are defined by MOROP and NEMA.
Scale Name

Model Track Gauge

Relative Size

Comparable North American

inches

mm

Scale Ratio 1:xxx

To

Next

Scale

Ratio

1. 2 mm Scale

0.371

9.42

152

0.67

0.79

N

160

2. 3 mm Scale

0.472

12.00

102

0.75

0.63

TT

120

3. 4 mm Scale

0.750

19.10

76.2

0.57

0.60

OO

76.2

4. 7 mm Scale

1.250

31.80

43.5

0.70

0.71

O

48

5. 10 mm Scale

1.766

44.90

30.5

0.71

0.71

3/8"

32

6. 14 mm Scale

2.500

63.50

21.7

0.88

0.71

G

22.6

7. 16 mm Scale

3.500

88.90

19.1

----

----

3/5"

20
Most of these are considered fine scales, but normal or coarse scale versions also exist. The 3/4 RULE is not as neat for continental scales. Some North American scales. such as Z, N, HO, O, and G Scales, are also common in Britain and Europe, as are a number of lesser used scales not listed above.

MODEL RAILWAY STANDARDS FOR NARROW GAUGE MODELS
In mountainous regions, and on construction or mine sites, standard gauge was too expensive or the equipment was too large to be practical, so NARROW GAUGE railways were built, often 24, 30. 36 or 42 inches (or equivalent metric gauges).
narrow gauge sTANDARDS exist for some scales. Names of these scale/gauge combinations vary between Europe and North America. In Europe, a lower case letter is appended to the generally accepted scale name, for example HOm, where the "m" stands for meter gauge. The other letters used are "e" for 800+/- mm gauge (30"+/-), "i" for industrial 650+/- mm gauge (24"+/-), "f" for field railways 450 mm+/- gauge (15 to 18"), and "p" for park trains 300+/-mm gauge (12"+/-). Hence scale/gauge names like HOe, Gm, and Of can be found in advertisements for commercially available models. Just which actual gauge track is required is not usually specified.

In North America, the descriptions use the scale name, followed by a lower case "n", and a number. A single digit number represents the gauge in feet, a two digit number represents the gauge in inches, for example On3, Sn3, HOn3, or Nn3, (3 foot gauge) and HOn30 or On30 (30 inch gauge). Stranger combinations such as Gn15 and HOm can be found, as well as HOn2-1/2 (for HOn30).

Crain's Scale/Gauge Encyclopedia tables will show you which track gauge to use to represent these various combinations.

The narrow gauge names and scales for which NMRA provides standards are shown in this table.
Track Gauge

Gauge Name

inches

mm

Scale Ratio 1:xxxx

1
Nn3

0.250

6.35

160

2
HOn3

0.413

10.50

87.1

3
HOn2

0.276

7.01

87.1

4
Sn3

0.563

14.30

64

5
On3

0.750

19.10

48

6
On2

0.500

12.70

48

NMRA has proposed adding the following standards but have not followed through.
| | | | | |
| --- | --- | --- | --- | --- |
| 7 | Mn2 | 1.772 | 45.0 | 13.5 |
| 8 | Fm | 1.949 | 49.5 | 20.3 |
| 9 | Fn3 | 1.772 | 45.0 | 20.3 |
| 10 | Fn30 | 1.476 | 37.5 | 20.3 |
| 11 | Fn2 | 1.181 | 30.0 | 20.3 |
| 12 | Gm | 1.772 | 45.0 | 22.5 |
| 13 | Gn3 | 1.614 | 41.0 | 22.5 |
| 14 | Gn30 | 1.259 | 32.0 | 22.5 |
| 15 | An42 | 1.476 | 37.5 | 29 |
| 16 | An3 | 1.259 | 32.0 | 29 |
| 17 | An2 | 0.886 | 22.5 | 29 |
| 18 | #1m | 1.259 | | 32 |
| 19 | #1n3 | 1.126 | | 32 |
| 20 | #1n2 | 0.752 | | 32 |
| 21 | TTn3 | 0.300 | | 120 |
Whether any or all of these proposals are adopted or modified, only time will tell.
NMRA Standard S-1 and other NMRA documents incorrectly refer to these narrow gauge names as SCALES, instead of GAUGES. Additional standards are specified in NMRA Recommended Practices for fine scale and high rail versions of some gauges.
In the tables, track gauge dimensions are given in inches and millimeters. Where two dimensions are given, these are the minimum and maximum dimensions given in NMRA Standards or Recommended Practices (either official or proposed). Where a single value is shown, a non-NMRA source was used.
To see the wide variety of scales and track gauges that have been used for model railways, check out these links: