California - nevada circle tour
Something for Everybody



This circle tour was run by Trains Unlimited in June 2006. There were a few long days on the bus but the railways visited were well worth the trip. Our bus driver owned the whole bus company -- he was also a great train fan on a genuine busman's holiday. Ever raced a fast freight in a bus? We did!!

For a change of pace, I have added a short story about Train Time In Tulsa and Ollie's Diner at the end of this page. Scroll on dowm to see what that was all about.

There was no shortage of standard and narrow gauge venues, both ancient and modern. In particular, the integration of mainline Amtrak, suburban rapid transit, streetcars, and cable cars in San Francisco is a lesson for many younger cities which haven't figured out that autos are not the solution.

The tour started and ended in Santa Clara, California. I broke this travelog into four phases, roughly eastbound to Nevada, northbound in Nevada, westbound back to the coast in California, and finally southbound along the coast back to Santa Clara. A back and forth from Stockton to Bakersfield finished the tour.

Well worth the time and effort.




EASTBOUND TO NEVADA


Niles Canyon Railway, Niles Canyon, CA (east of Freemont)
Standard gauge train ride, diesels at both ends of excursion cars, 70 minute round trip from Niles to Sunol, CA on ex-Western Pacific / Southern Pacific mainline.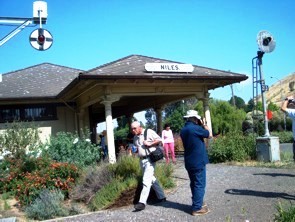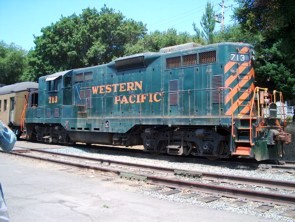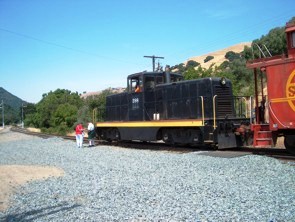 Sierra Railroad, Jamestown, CA
Standard gauge, originally a logging and mining railway built in 1897, Short steam train ride, shop tour, turntable operations.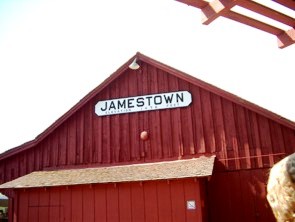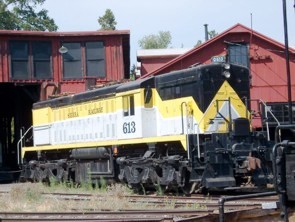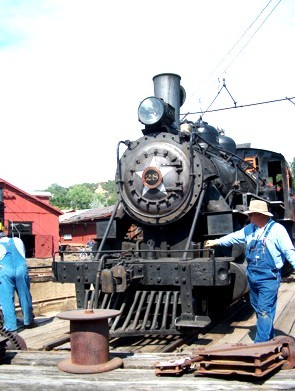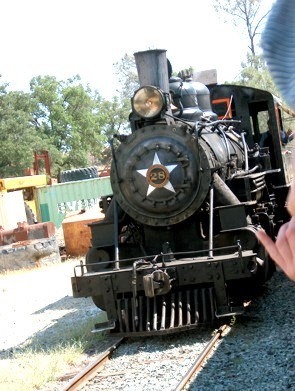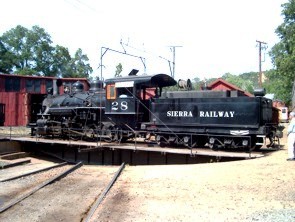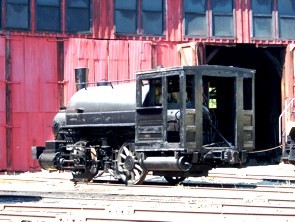 Sierra Railroad Dinner Train, Oakdale, CA
Standard gauge, originally a logging and mining railway built in 1897. Sunset dinner train to Warnerville and return. Unfortunately it was June and the sun set on the tail of the train, no great photos from the train windows. Photo from website.



Yosemite National Park, Yosemite, CA


The standard gauge Yosemite Valley Railroad ran to the park from Merced to Los Banos and Yosemite Valley (1905 to 1946). Good website but no place to visit.
We visited the park en route to Carson City, NV. Waterfalls, big trees, and elk using crosswalk skills are common sights.

YVRR photo from website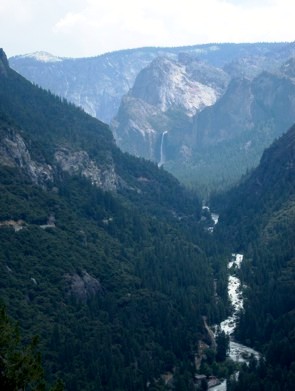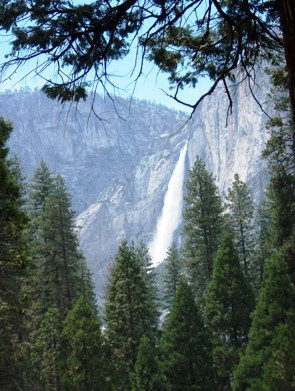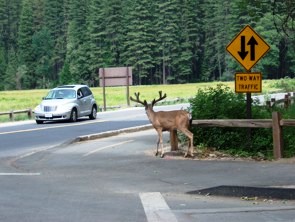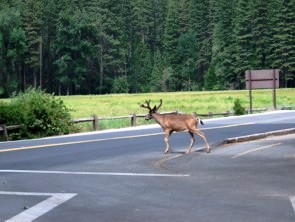 NORTHBOUND in NEVADA

This leg of the tour tales us from Yosemite, via Tioga Pass and Mono Lake, to Carson City, Virginia City, Reno/Sparks, and on to Donner Pass back into California.


Nevada State Railroad Museum, Carson City, NV
S

tandard gauge steam train ride and tour of facilities. The grounds and museum are impeccable, but poor lighting inside the museum doesn't allow good photos. Most interesting feature is a gallows style turntable and the beautifully restored locomotives inside.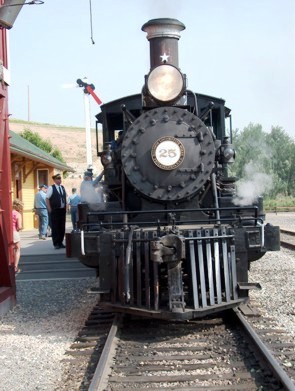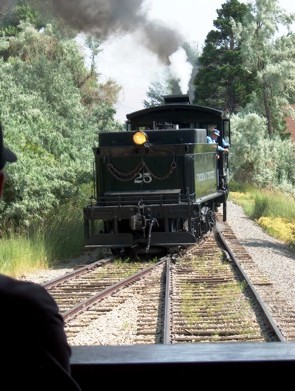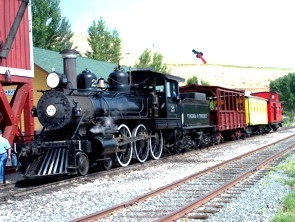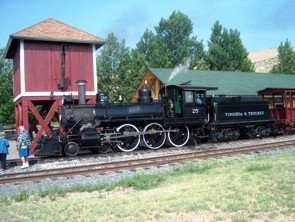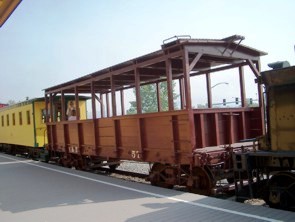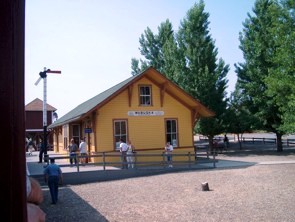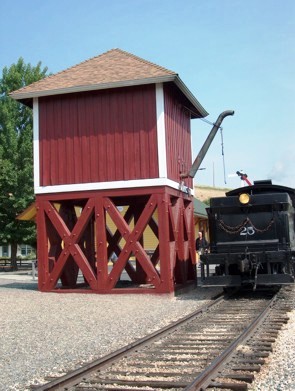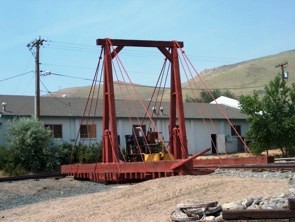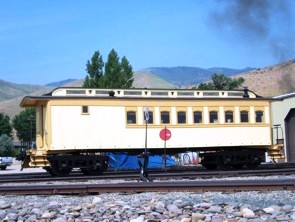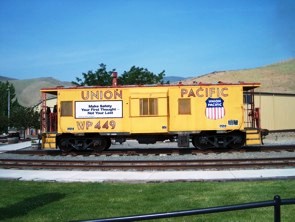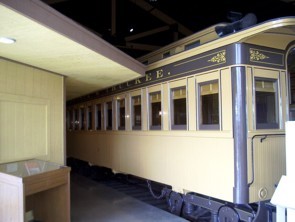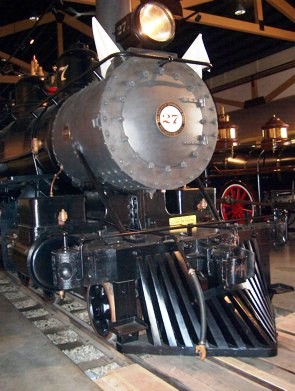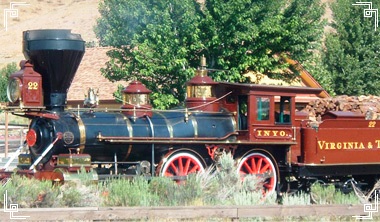 Virginia and Truckee Railroad, Virginia City, NV


Standard gauge diesel train ride (2-8-0 steamer was being rebuilt) and tour of old-west buildings and mining operations. Short ride through 4 tunnels, past several abandoned Comstock silver mines, on the right of way first cleared in 1868. Virginia City is a tourist trap of the first kind and has no other purpose today.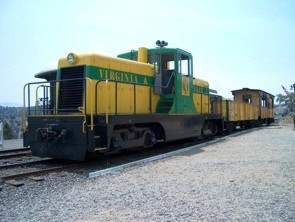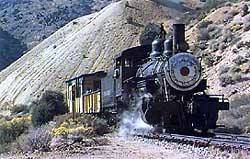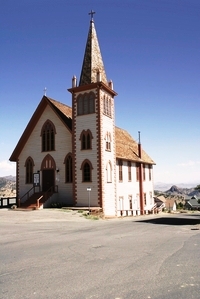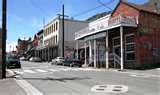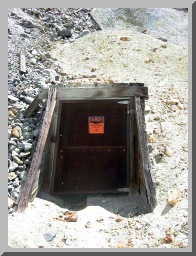 Southern Pacific Railroad, Reno / Sparks / Reno Junction, NV
Photo Op at standard gauge display, Sparks City Park en route to Reno Junction, Hawley, and Portola.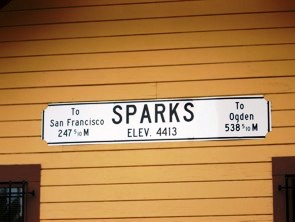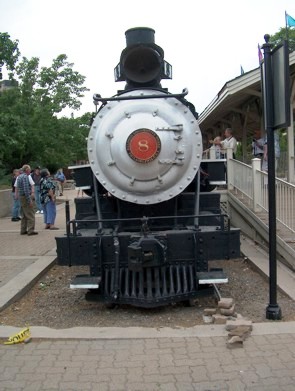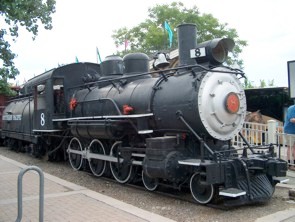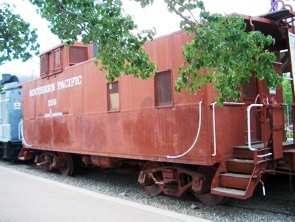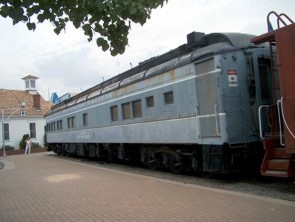 WESTBOUND inTO California

The westbound leg took us from Portola / Feather River Canyon to Fort Bragg / Willits, CA

Western Pacific Railroad Museum, Portola, CA


After arriving at Portola from the Feather River Canyon, we toured the amazing museum/shop of the Feather River Rail Society. This facility does restoration and rental of vintage diesels and streamliner passenger cars and has a storage area for unrestored freight equipment.


Those who could see the controls got to run a diesel back and forth - pretty cool! Snow plows were a necessity in these mountains - a rotary and a wedge were in good repair.
http://www.wplives.org/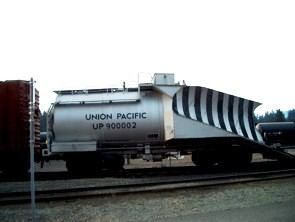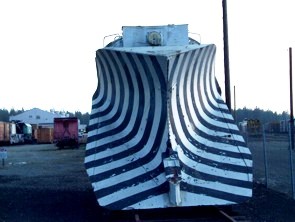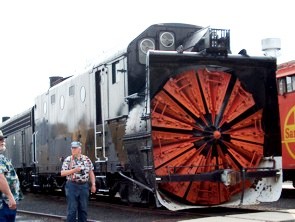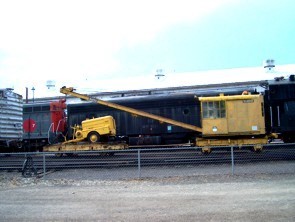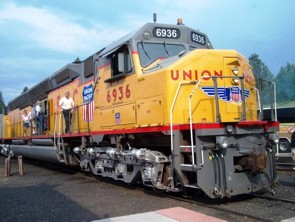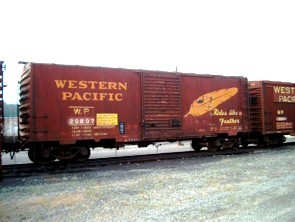 Keddie Wye Bridge, CA en route to Donner Pass, CA
Lots of train watching at Keddie on ex-WP mainline (now UP and BNSF).

The Donner Pass has quite a reputation as a result of its super-deep snows, as well as the fabulous tales of hardship, cannibalism, and death in the winter of 1846. In 1952, the crack SP passenger train, "The City of San Francisco", was trapped for several days when 13 feet of snow piled up in Donner Pass. Rotary plows and a hardy work crew rescued 286 passengers and crew, unharmed by the ordeal. The SP snowsheds are still visible on the mountainside.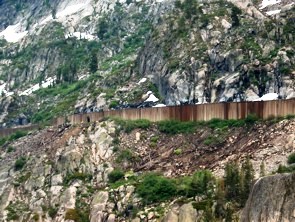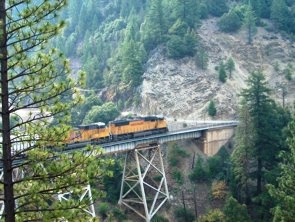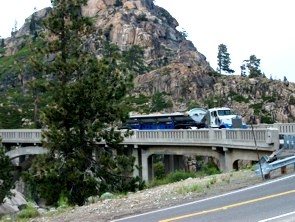 Nevada County Narrow Gauge Museum, Nevada City, CA


This is ex-gold mining and logging country. One of the prettiest spots on the trip, the town is justly proud of its many preserved mansions. The museum is spotless and a number of antique freight cars grace the spur track, along with a neat jitney railbus. The NCNG ran from 1876 to 1942. http://www.ncngrrmuseum.org/
The Nevada County Traction Company is a 2 foot gauge line that links the Museum to the nearby Northern Queen Inn. A little yellow and green mine diesel pulling converted ore cars runs us downhill through a switchback to a very scenic setting for dinner, a streetcar suspended over Gold Run creek and waterfall - The Trolley Junction Restaurant.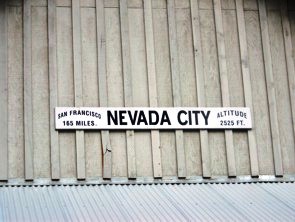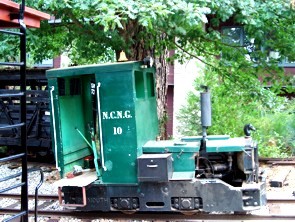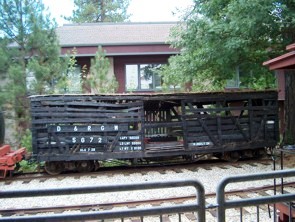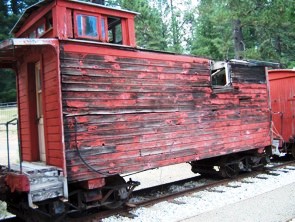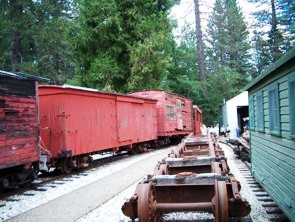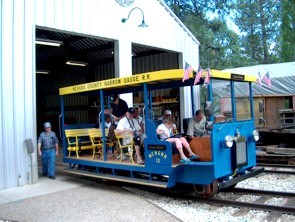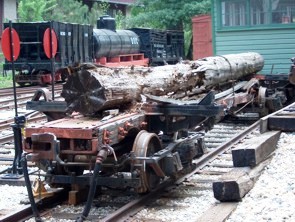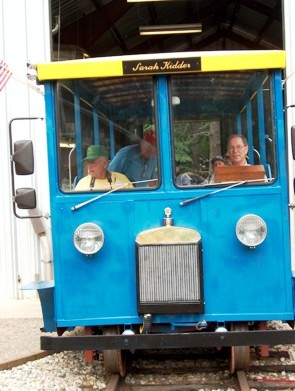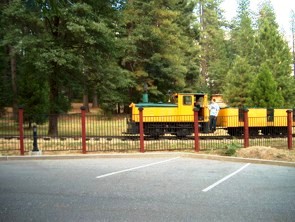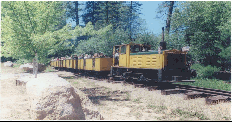 California Western Railroad, Willits, CA


Back near the coast, we return to Redwood country and onboard the California Western railbus, better known as the "Skunk Train" because of the terrible smell from early gasoline engines. We run from Willits to Northspur for a BBQ supper in the heart of the redwoods.
The diesel train also makes the same trip with a slightly larger passenger load. The Northspur to Fort Bragg leg of the run was closed due to weakened bridge, so we ended up back at Willits and bused to Fort Bragg. The Western California steam train was not part of the tour but we watched it set out next morning.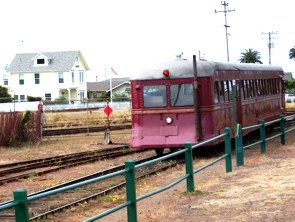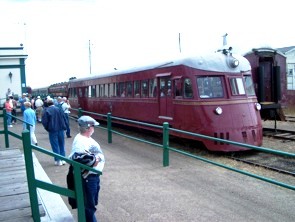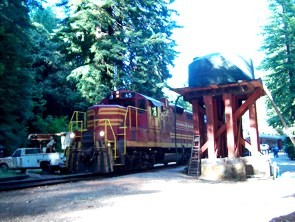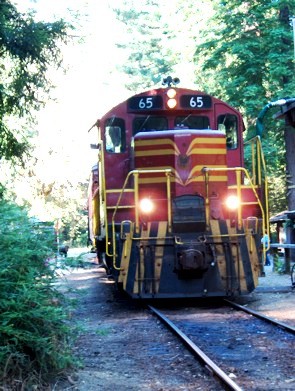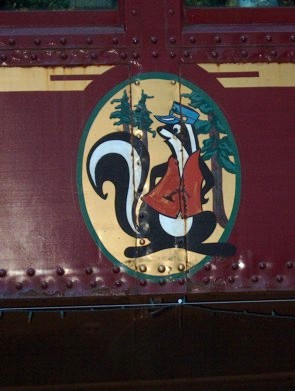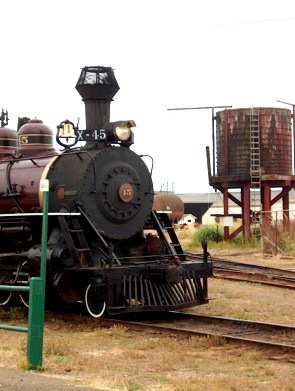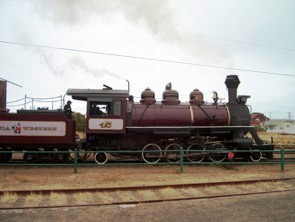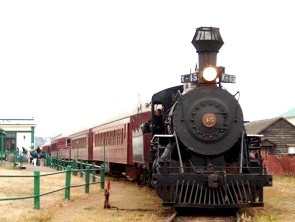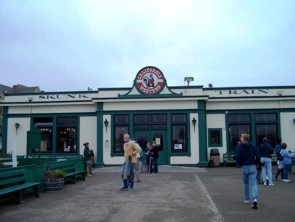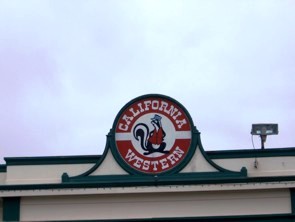 SouThBOUND in California


This section of the tour took us down the coast, with a few skips and jumps, to Sacramento, Napa, San Francisco, and Felton / Santa Rosa. The add-on trip from Stockton to Bakersfield and return in the 55 year old streamlined dome cars was an all-inclusive gourmet delight. Bakersfield is, of course, still Bakersfield.

Train Town, Sonoma, CA
Following a long bus ride along the winding coastal redwoods highway, we visited a fantastic 1/8 scale operating ride-on railway. Scale buildings and bridges, turntable and roundhouse, plus a tropical garden setting made a great afternoon stop.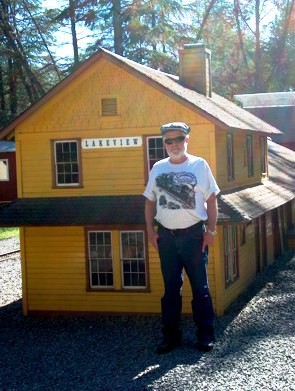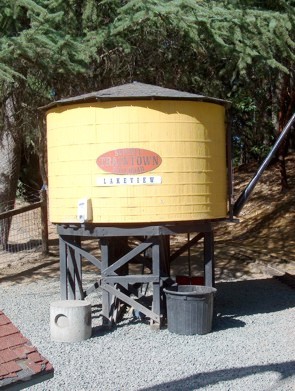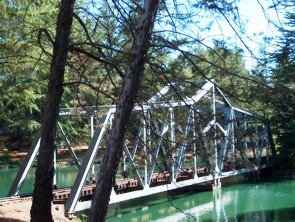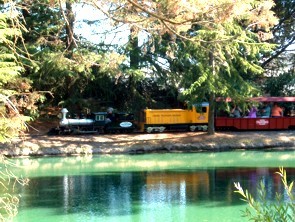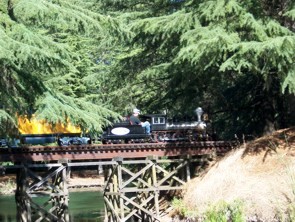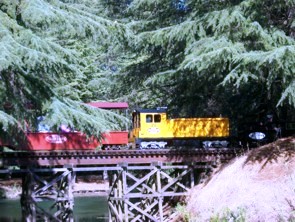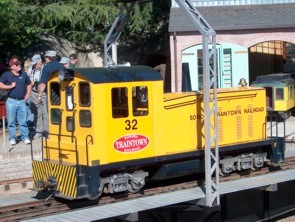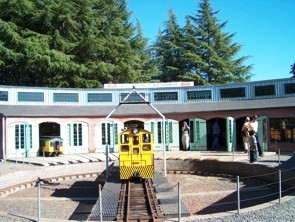 Napa Valley Wine Train, Napa, CA
Not much to see, but the food and wine are really good. The 1959 Budd streamline dome cars have been nicely refurbished and the cloth napkins cling like cloth. Photos from the website.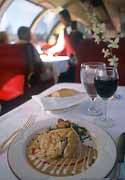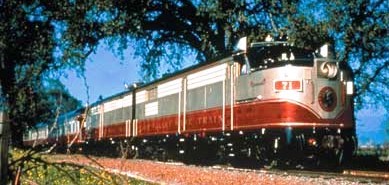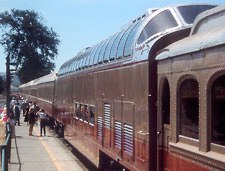 California State Railroad Museum, Sacramento, CA


Old Sacramento and the California State Railroad Museum fill a morning, and much more if you can spare the time. The Museum is spectacular and obviously well financed. The Museum's train ride along the river front is uninspired, pulled by a standard gauge 0-6-0 tank engine from an abandoned quarry operation.

There is a mainline diesel version run by Sacramento River Trains and is probably a better bet, but we didn't get a chance to ride on it.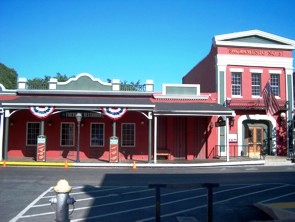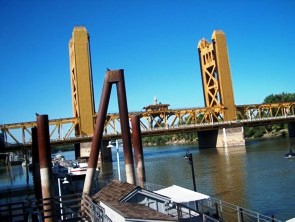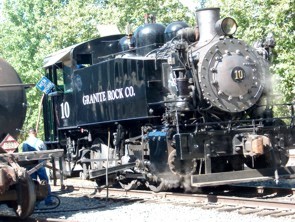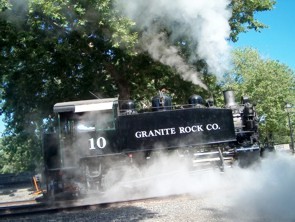 Photos from the website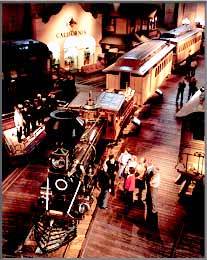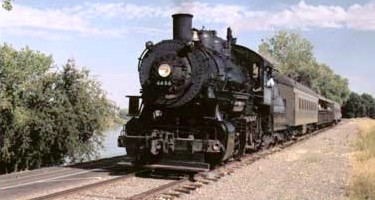 Western Railroad Museum, Rio Vista, CA
This working museum covers electric interurban freight and passenger service in western USA. A ride, with lunch included, on a freight motor pulling two unpowered passenger cars brought us to Gum Grove and return, past numerous wind turbines.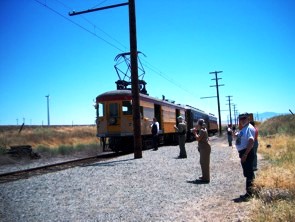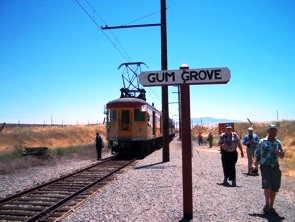 San Francisco, CA


By way of Amtrak from Sansun/Fairfield to Freemont, BART under the Bay to downtown, and cable car to Fisherman's Wharf, we boarded a fishing trawler for a ride under the Golden Gate Bridge. It was rough and cold but quite enjoyable. A crab dinner followed on stable land. Pogo once said "Terra Firma - the more firma, the less terra".
Next day, we tried out the PCC streetcars and "N" and "L" subways. These are equipped with convertible steps that handle both street level and platform loading.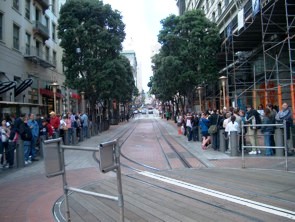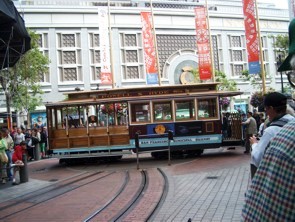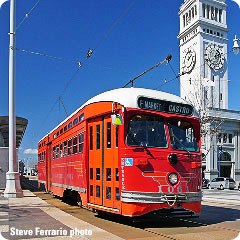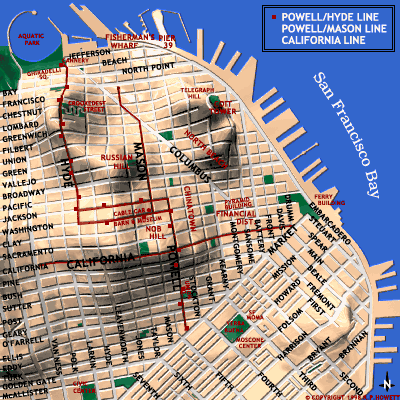 Roaring Camp and Big Trees Railroad, Felton, CA
We left San Francisco by CalTrain to Mountain View, then by tourbus to Felton to ride the narrow gauge Shay into the redwoods. The shop tour showed several engines under rebuild and a couple of baby diesels sat in the sun outside.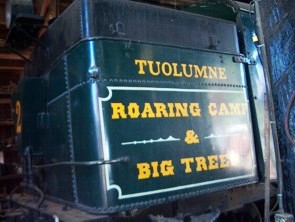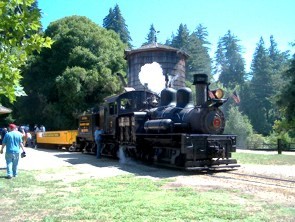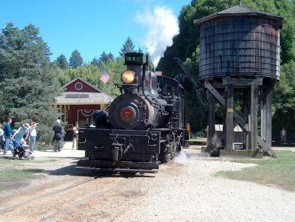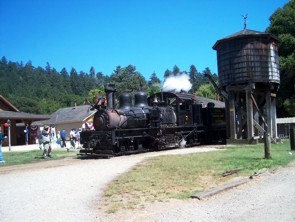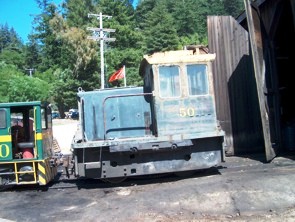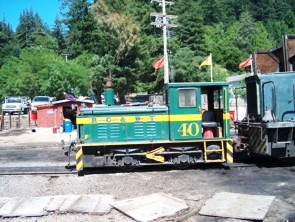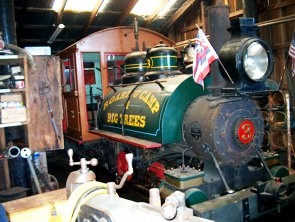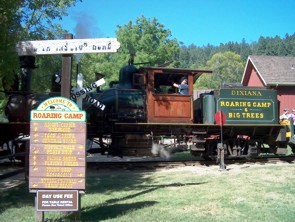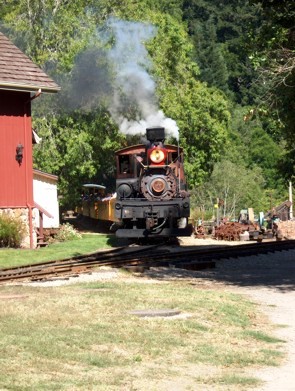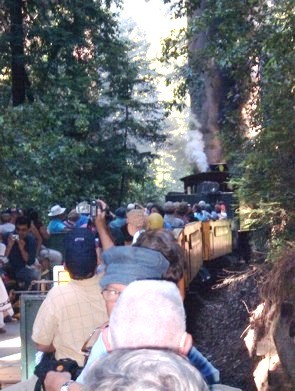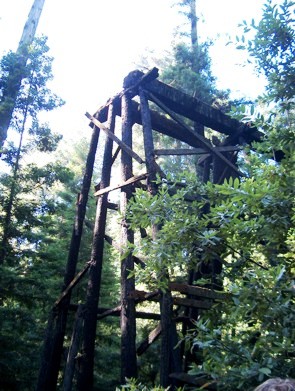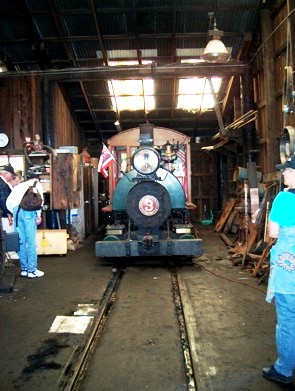 Domes Down the Valley, Stockton to Bakersfield, CA
Our final trip was an all-day journey on a Budd Vista-Dome car tacked on the end of the regular Amtrak passenger train from Stockton to Bakersfield. On the return trip, we were tacked next to the northbound diesel, about 30 feet from the airhorn - there are about 200 level crossings to whistle at, so it was not as peaceful as the southbound journey.
Three gourmet meals, three between meal snacks, and all the booze you want were included in the fare. A few over-indulged but most were still sober upon return.
The San Joaquin Valley is flat, boring, and green in June (brown later in the year) but it is the fruit and vegetable basket for much of the USA and a lot of the rest of the world. During the northbound run, the sun set on 10 days of trains and good food. as we returned to Stockton and Santa Clara.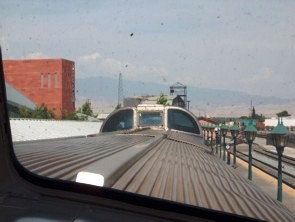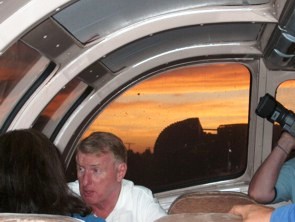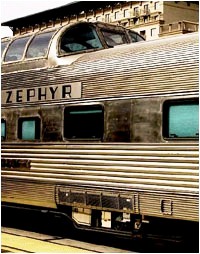 Train Time In Tulsa



Tulas is not the first place you would go to see trains. Fiji or Hong Kong or backwoods California are better, but business took me there for a week every month or so from 2005 to 2009. The job was to teach petrophysics to Schlumberger engineers the basiscs of the science of petrophysics in Tulsa University's Leader Program. Imagine a classroom of 20 or so students from 20 different countries, all speaking perfect English as their second or third language. This was the best 8 to 5 contract I ever had. But what to do with the 6 tp 10 PM time slot? There was a bar with 300 brands beer, a Spagetti Factoru, the hotel restaurant, and CSI every night, every channel. Train watching was better.

The BNSF mainline goes right through downtown Tulsa, a block from the hotel, each train whistling at a sequence of 6 level crossings. A huge variety of motive power, unit trains, and switching maneuvers made for interesting post-dinner entertainment.
BNSF brags that it is the largest single user of diesel fuel in the USA, most of it used to move coal to power plants. In this more eco-friendly decade, I'm not sure this is anything BNSF should be proud of.
Tulsa is also home to Route 66, the famous 1930's "Mother Road" between Chicago and Los Angeles. And the art-deco office buildings are a real treat compared to most glass-towered downtown cores. For model train fans, there is Ollie's, a classic roadside diner filled with operating Lionel and LGB trains. The food is 1960's style, heavy on the gravy, but well worth the 15 minute drive. Special thanks to all the staff at TU / CESE who looked after us so well.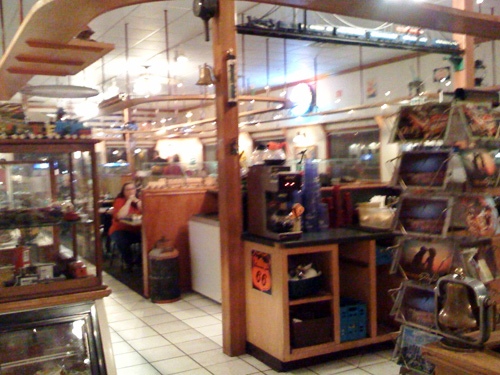 Inside Ollie's - model train collection, old time food, and BNSF tracks out-side the windows - on US Route 66, 15 minutes west of downtown Tulsa.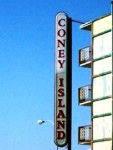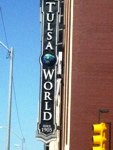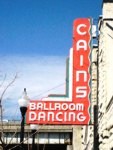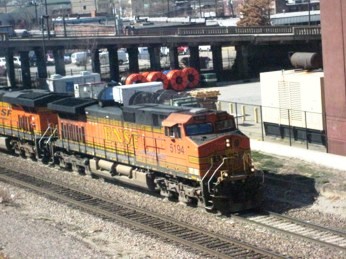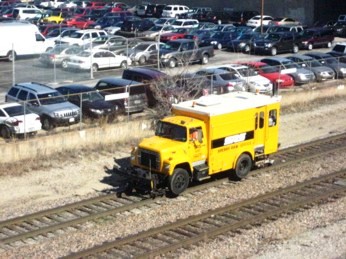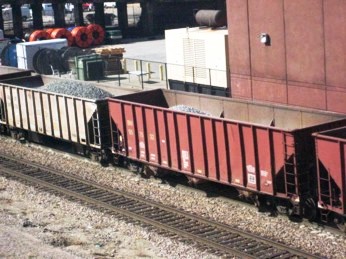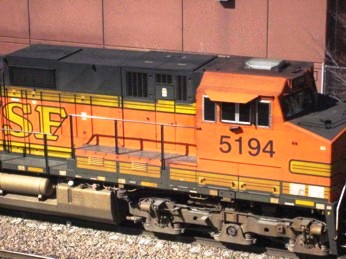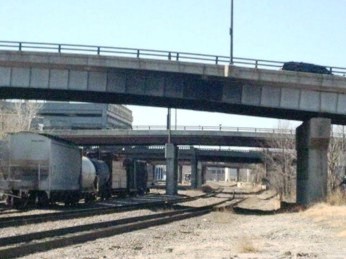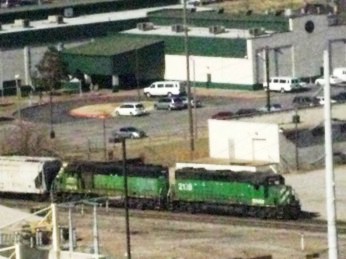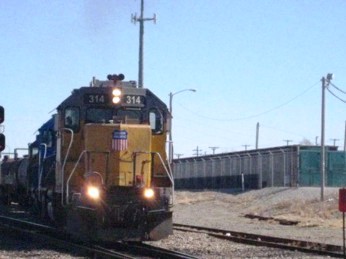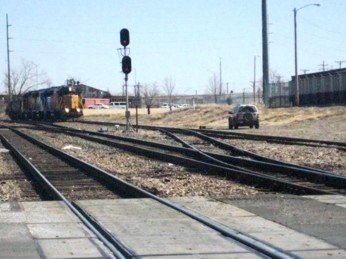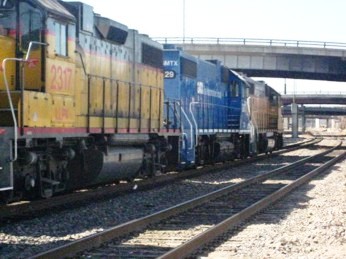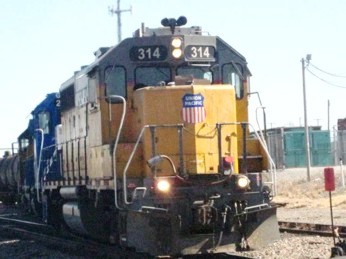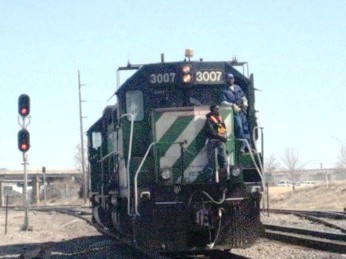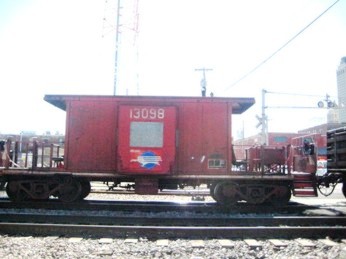 The bulletproof Tulsa transfer caboose in 2009